GSE 200-Gallon Poly Unit
This rugged skid sprayer is the perfect addition to your lawn spray fleet. According to our estimates, this skid sprayer can generate $145,000 in annual revenue. And we make sure that it's ready to work when you are. When your lawn spray truck is onsite, you can rest easy that we build our equipment to last.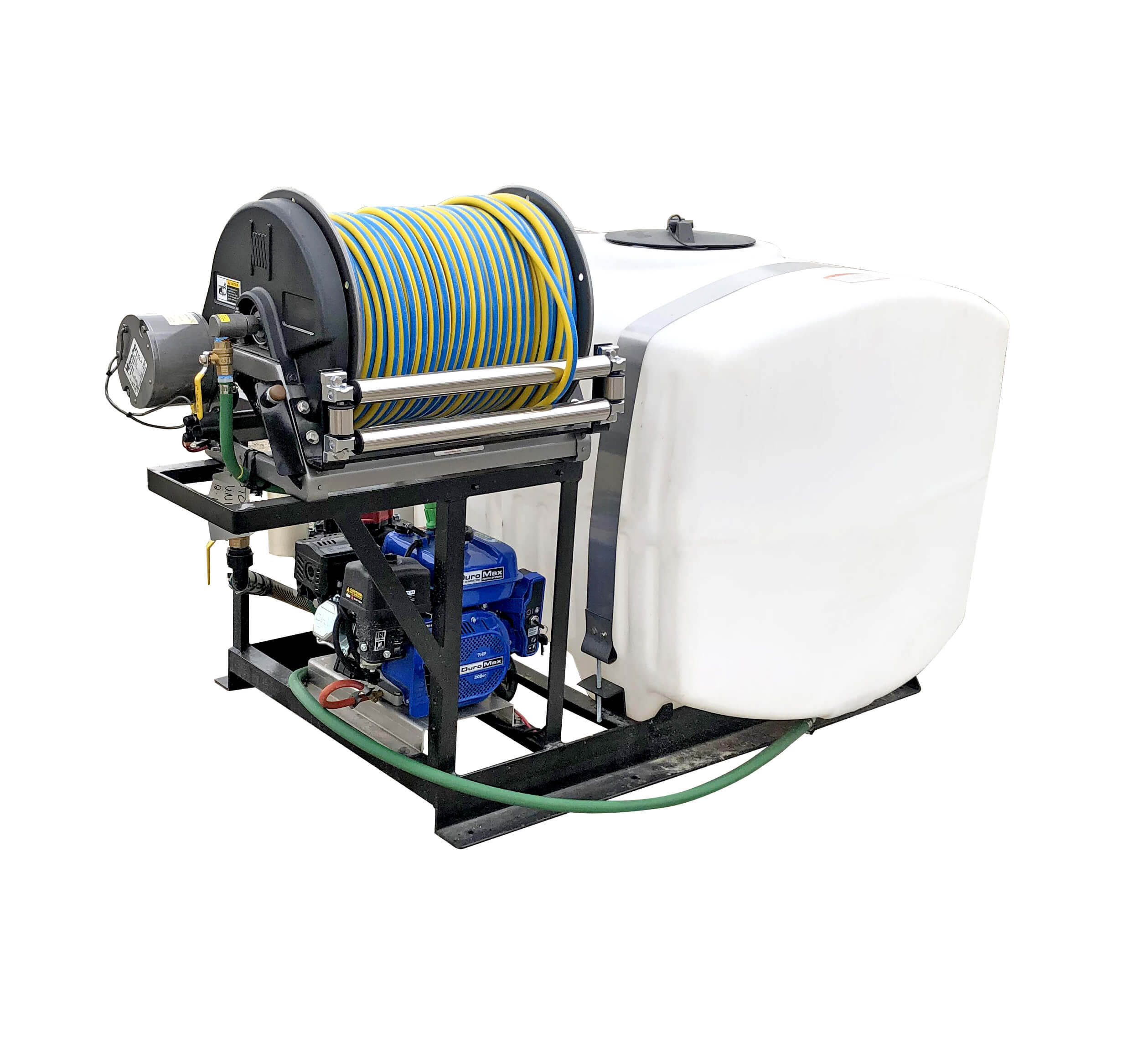 GSE 200-gallon poly skid sprayer includes:
Tuflex 200-gallon poly tank
Jet agitation
3" stainless steel straps
AR-30 diaphragm pump
Gear Reduction
GS40 Pressure regulator
5.5-HP manual Honda motor
EI526 Hannay electric hose reel
400-ft. of 3/8" spray hose
Lesco spray gun with 3-GPM nozzle
When considering the GSE 200-gallon poly skid sprayer, consider the foundation of all Graham products:
Reliability — Our units are easy to maintain and sure to perform.
Longevity — With proper maintenance, they can give you 15 to 20 years of performance, more if they are refurbished.
Customization — We specialize in custom configurations. Just tell us your idea, and we'll make it happen.
Skid sprayer options include:
Tank capacity of 50, 100, 225 or 325 gallons
Electric start Honda engine
D50 and 12 volt pumps
To see some of the rigs that customers have designed with Graham's help, visit our Photo Album page. And if you need quick tips for maintaining your spray equipment, visit our Videos page.
There is a 3% surcharge on credit card purchases. Prices are subject to change without notice.
Graham Quality & Service
All of our skid sprayers also come with the kind of quality and service you can expect from Graham:
Customer training is provided on how to use and maintain the unit. This includes lifetime phone support throughout the years of your skid sprayer's service life.
We sell parts for our skid sprayers and can usually talk you through a repair.
Graham Spray Equipment warrants new equipment of its own manufacture for 12 months against defective workmanship and materials under normal use and service.
We offer financing to help you put your lawn spray trucks onsite faster.
Build time on units is an average of 2 to 3 weeks.
Ride Along with a Lawn Care Company – Thinking about getting into lawn care? Here's a great opportunity to see what it's like. We'll arrange for you to spend the day with a top-rated Atlanta lawn care company – and valued Graham customer. Give us a call and we'll get the ball rolling.
Put your lawn spray truck to work today. Contact us for a custom quote to build a skid sprayer crafted around your personalized requirements.
Warranty Information
Graham Spray Equipment warrants new equipment of its own manufacture for 12 months against defective workmanship and materials under normal use and service, but not against damage of any kind resulting from erosive or corrosive liquids handled by the equipment or from improper installation or maintenance, or from misuse, negligence, alteration or accidents. Equipment covered by this agreement which is not manufactured by Graham Spray Equipment shall be covered only by the warranty, if any, of its manufacturer. Charges for pick up and delivery are not covered by this warranty. Graham Spray Equipment's obligation and the purchaser's sole remedy under this warranty is limited to the repair or replacement at Graham Spray Equipment's option, of any part found to be defective in material or workmanship without charge for parts or labor.