The Graham Legacy
We at Graham pride ourselves on building long-lasting relationships with our customers. Many lawn care professionals have been working with us for 30 years or more because of our quality products and top-notch customer service. They know that we care about their success. We want to understand each individual business before we start building a rig. That kind of service keeps customers coming back when it's time to add to their fleet.
This page features stories straight from our customers about why they keep purchasing rigs from Graham year after year.
"I owe my livelihood to Graham."
Best Lawn, Inc.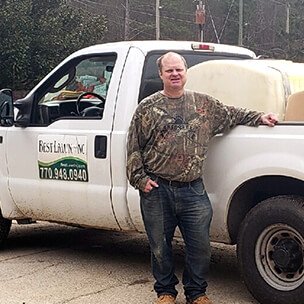 Year Spray Business Started:
1992

Year of First Graham Purchase:
1992

Graham Rigs/Units Purchased to Date:
5

Units from Other Providers:
0

Problems Solved by Graham:
"All of them."
For Aaron Chaplin, Graham's the whole package – and then some
Like most guys who start lawn care companies, Aaron Chaplin first worked as a tech for someone else. In Aaron's case, that "someone else" happened to be Max Graham, who, in addition to founding Graham Spray Equipment, ran a successful lawn care business.
The start of a long, productive relationship
Fresh out of college with a degree in horticulture, Aaron started working for Max's lawn care business in 1991. He was eager to learn everything he could about turf, tree, and shrub care, as well as spray equipment and business operations. During his time with Graham, Aaron decided he wanted a career in the lawn care industry. By the summer of 1992, Aaron was ready to start Best Lawns, his own lawn, tree and shrub care business, and he purchased his first Graham spray unit.
Growing strong – then and today – with Graham on his side
After several years in business, Best Lawns' customer base increased, and the company grew at a pace that required Aaron to add a second, larger Graham spray unit around 1995 and then three more in 2000. Each unit was added to accommodate an expanding workload – never to replace a spray unit that became unreliable or stopped working altogether.
When asked about his experience with other spray equipment providers, Aaron replied, "I use Graham exclusively. Time is money in the spray business, and if I need something fixed, I know they'll get it done quickly and correctly. They're even very good at troubleshooting over the phone. And their spray units can last almost forever. They've always supported my growing business, and I've never felt any need to go anywhere else."