GSE HX600+100
Forty-eight hours. That's what goes into building the GSE HX600+100 spray rig. This piece of turf spray equipment can generate $250,000 annually for your business, but only if it works when you need it. When it comes to your business, every component simply needs to last — that's the philosophy we put into every Graham spray rig.
To learn more about the HX600+100, visit the LR4 Series section in our Online Rig Brochure. And to see some of the rigs that customers have designed with Graham's help, visit our Photo Album page. If you need quick tips for maintaining your spray equipment, visit our Videos page.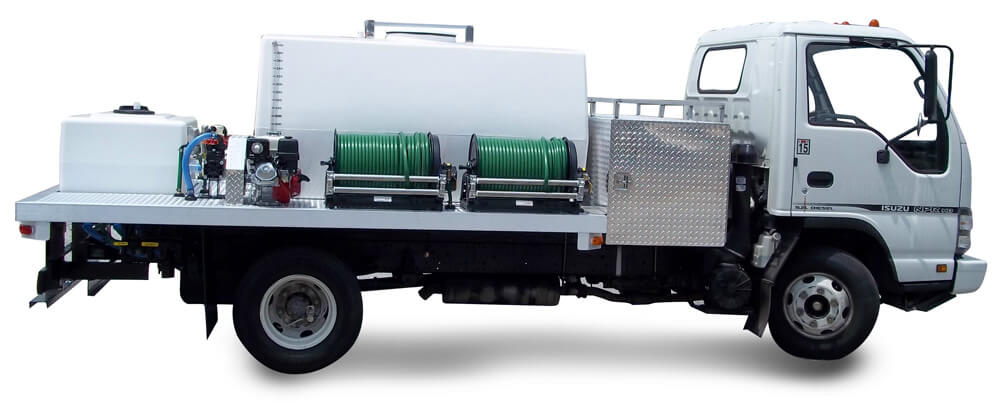 The GSE HX600+100 includes:
An 11′ aluminum truck bed with 30″ x 30″ x 78″ aluminum box
A Tuflex HX600 gallon fiberglass tank
A Tuflex 100-gallon fiberglass tank
Mechanical agitation in 600-gallon tank
Jet agitation in 100-gallon tank
AR-30 diaphragm pump

GI40 pressure regulator

Two Hannay electric reels
Two rolls of Graham 600 PSI hose 3/8" x 400'
Two Lesco guns with nozzles
A Graham measuring wheel
Spreader bracket
Honda GX240 8-HP engine with electric start
Mounting:
Turf spray equipment fits a 108" cab-to-axle Ford, Chevrolet, or GMC or a 112" cab-to-axle Isuzu with a recommended GVW 14,000+.
Options:
Change to an AR pump, strainer and/or a AR regulator. Change John Bean or AR unit to a 200-gallon drop tank.
There is a 3% surcharge on credit card purchases.  Prices are subject to change without notice.
Watch The GSE HX600+100 Video
Graham Quality & Service
All of our spray rigs come with the kind of quality and service you can expect from Graham:
Top-quality components and tough materials support all turf spray equipment.
GSE mechanical agitation is produced specifically for your Graham unit.
We provide customer training on how to use and maintain your unit, as well as lifetime phone support. Throughout the years of service life, you can call us whenever you have a question.
We sell components for our spray rigs and can usually guide you through a repair over the phone.
Graham Spray Equipment warrants new equipment of its own manufacture for 12 months against defective workmanship and materials under normal use and service.
We offer financing for all of our turf spray equipment.
Build time on units is an average of 4 to 6 weeks.
Ride Along with a Lawn Care Company – Thinking about getting into lawn care? Here's a great opportunity to see what it's like. We'll arrange for you to spend the day with a top-rated Atlanta lawn care company – and valued Graham customer. Give us a call and we'll get the ball rolling.
Contact us for a custom quote to build a spray rig customized to your exact specifications. Our turf spray equipment will keep your drivers out in the field — generating revenue for your business.
Warranty Information
Graham Spray Equipment warrants new equipment of its own manufacture for 12 months against defective workmanship and materials under normal use and service, but not against damage of any kind resulting from erosive or corrosive liquids handled by the equipment or from improper installation or maintenance, or from misuse, negligence, alteration or accidents. Equipment covered by this agreement which is not manufactured by Graham Spray Equipment shall be covered only by the warranty, if any, of its manufacturer. Charges for pick up and delivery are not covered by this warranty. Graham Spray Equipment's obligation and the purchaser's sole remedy under this warranty is limited to the repair or replacement at Graham Spray Equipment's option, of any part found to be defective in material or workmanship without charge for parts or labor.