GSE Box Truck
Extend your spraying season with Graham's new box truck option. Total enclosure protects spray equipment and products from colder temperatures, keeping your spray rig in the field up to 10 weeks longer. The box truck also provides ample storage so crews don't have to load and unload equipment. And with lots of space on the outside to advertise, everyone will see you serving customers long after your competitors have shut down for winter.
To learn more about the Box Truck, visit the BT1 Series section in our Online Rig Brochure. And to see some of the rigs that customers have designed with Graham's help, visit our Photo Album page. If you need quick tips for maintaining your spray equipment, visit our Videos page.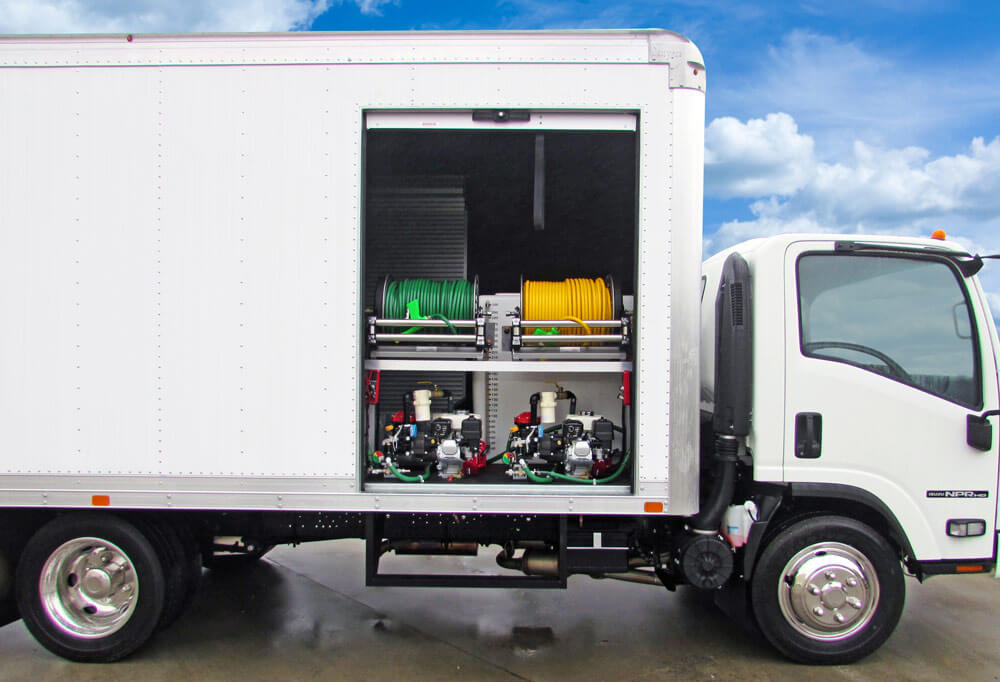 The Box Truck Body includes:
18' overall length
16' flat space inside + 2' internal dovetail
Aluminum box
Internal box height 79"
External box width 96"
Internal box width 92"
Rear rollup door
Laminated hardwood floors
Full plywood lining
Aluminum roof
One dome light
Two shutter doors 48" wide (one on each side)
Folding ramps on back of body
The Box Truck Spray Unit features:
300-gallon fiberglass tank compartmented 110 /190 with jet agitation in both compartments
AR-30 diaphragm pump / Honda 5-hp engine with electric start
Hannay power reel / 400 ft. of 3/8" spray hose
Mounting:
This unit can be mounted on a removable skid or permanently mounted inside the box with a recommended GVW of 14,500 lb. (up to 600 gallons).
Options:
Call 770.942.1617 to discuss the many options offered on this unit.
There is a 3% surcharge on credit card purchases. Prices are subject to change without notice.
Graham Quality & Service
All of our lawn spray equipment also comes with the kind of quality and service you can expect from Graham:
The GSE mechanical agitation component is made specifically for your Graham skid sprayer.
We deliver customer training on how to use and maintain the unit, as well as lifetime phone support. Throughout the years of service life, you can call us for assistance.
We sell parts for our lawn spray equipment and can usually talk you through a repair.
Graham Spray Equipment warrants new equipment of its own manufacture for 12 months against defective workmanship and materials under normal use and service.
We offer financing to help you put your drivers onsite faster.
Build time on units is an average of 2 to 3 weeks.
Ride Along with a Lawn Care Company – Thinking about getting into lawn care? Here's a great opportunity to see what it's like. We'll arrange for you to spend the day with a top-rated Atlanta lawn care company – and valued Graham customer. Give us a call and we'll get the ball rolling.
Ready to move forward? Contact us for a custom quote to build a skid sprayer designed exactly to meet your personalized specifications. And know that all of our lawn spray equipment is built to last.
Warranty Information
Graham Spray Equipment warrants new equipment of its own manufacture for 12 months against defective workmanship and materials under normal use and service, but not against damage of any kind resulting from erosive or corrosive liquids handled by the equipment or from improper installation or maintenance, or from misuse, negligence, alteration or accidents. Equipment covered by this agreement which is not manufactured by Graham Spray Equipment shall be covered only by the warranty, if any, of its manufacturer. Charges for pick up and delivery are not covered by this warranty. Graham Spray Equipment's obligation and the purchaser's sole remedy under this warranty is limited to the repair or replacement at Graham Spray Equipment's option, of any part found to be defective in material or workmanship without charge for parts or labor.